Radiology/Ultrasound
At West End Veterinary Clinic we pride ourselves on using the best technology to diagnose and treat your pets as quickly and efficiently as possible.  That's why we employ both digital x-ray and ultrasound equipment.  Dr. Mason has received extensive training in abdominal ultrasound to be able to diagnose diseases the previously required costly and invasive surgery.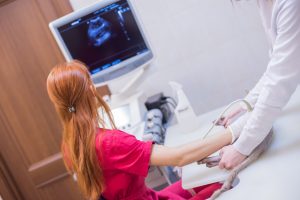 Just a few instances where abdominal ultrasound can benefit your pet:
Screening for Abdominal Cancers: Certain breeds of dogs like Golden Retrievers are more predisposed to tumors of the liver or spleen than other breeds.  Annual ultrasounds on these breeds as they age can allow us to detect these tumors when they are small and may not yet have spread to other organs.
Bladder Stones: Bladder stones are common in dogs and cats.  If your pet comes in for urinary symptoms, we can quickly and easily scan their bladder to ensure that a stone isn't the real cause of the problem.
Pregnancy:  Who doesn't want to see baby puppies and kittens on an ultrasound!  We can diagnose a pregnancy several weeks sooner than an x-ray, and even show you a video of a beating little heart!
What do my lab results mean?:  Often times when veterinarians run bloodwork on a pet we will find abnormalities that we can't quite explain.  Why are your dog's liver values high?  Without an ultrasound, your guess is as good as ours!  With ultrasound we can look at each of the organs for evidence of tumors, inflammation, infection, or other disease that might cause abnormalities on their bloodwork, and decide from there the best treatment plan for your pet.
Subscribe to our newsletter
We send e-mails once a month, we never send Spam!