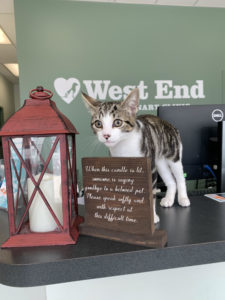 Meet Wasabi!  Wasabi came to us after a pretty rough start to her life.  She was hungry, had a broken leg, and was in desperate need of some love and affection.  She lives with us now, gets all of the love and snuggles in the world, and serves as our emotional support cat.  She can make anyone's day a little brighter, so be sure to give her a big hug next time you visit!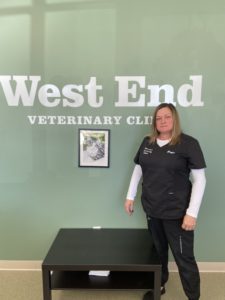 Meet our practice manager, Angie! Angie has 15 years experience in the veterinary medicine field. Angie likes spending time with her son, daughter, 4 French bulldogs, 1 Great Dane and 4 Tennessee walking horses.
Dr. Chelsea Mason, DVM
Dr. Chelsea Mason grew up in Yorktown, VA. She has wanted to be a veterinarian since the age of 8, and has always dreamed of owning her own practice. She graduated top of her class from the University of Virginia with a degree in Biology in 2010. In 2014, Dr. Mason graduated with distinction from the Virginia-Maryland Regional College of Veterinary Medicine at Virginia Tech.  She then moved to Richmond and has been practicing in the area ever since.  Her passions in medicine include ultrasonography, surgery, nutrition, and senior care.  Dr. Mason is also passionate about giving back to her community, and in 2016 she founded VET Fund, a nonprofit organization which provides funding for emergency veterinary care to families in need in Central Virginia (www.vet-fund.org)
In her spare time Dr. Mason enjoys running, swimming, and attending as many of Richmond's musicals, concerts, and festivals as possible!