Fallon began her veterinary career when she moved to Richmond in 2005.  She began her career in a small animal practice and then spent 4 years with Richmond Animal Care and Control before joining West End Vet.  She enjoys interacting with animals of all kinds!  She spends most of her free time having adventures with her daughter, Taylor, and taking care of her three dogs at home.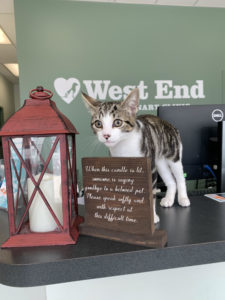 Meet Wasabi!  Wasabi came to us after a pretty rough start to her life.  She was hungry, had a broken leg, and was in desperate need of some love and affection.  She lives with us now, gets all of the love and snuggles in the world, and serves as our emotional support cat.  She can make anyone's day a little brighter, so be sure to give her a big hug next time you visit!
Meet Angie! Angie has 15 years experience in the veterinary medicine field. Angie likes spending time with her son, daughter, 4 French bulldogs, 1 Great Dane and 4 Tennessee walking horses.