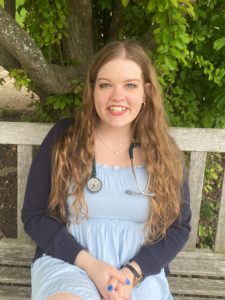 Dr. Danielle Storozynsky (Dr. S) grew up on the Eastern Shore of Virginia, where she knew ever since a young age that she wanted to be a veterinarian! She graduated summa cum laude from the University of Richmond with a Bachelor of Sciences in Biology in 2018. She then attended the Virginia-Maryland College of Veterinary Medicine, and graduated in the spring of 2022. She loved Richmond so much she decided to move back and join the wonderful team here at West End Vet! She loves baking, hanging out at the pool, going to the movies, and spending time with her cat Louie. She is very passionate about working with animals, and can't wait to get to know your beloved cats and dogs!
Fun facts:
1. I grew up by the beach, and I love seafood!
2. I've owned many small pets like hamsters, rats, and rabbits.
3. In my free time I love checking out new restaurants or visiting museums!