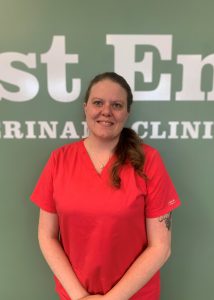 Jayme is a mother of two children: One teenage boy and one medically complex daughter, whom she takes care of and advocates for daily.  Jayme has over 15 years of experience in the customer service industry, and has a bachelors degree in business administration. In her spare time she enjoys reading, crossword puzzles, and spending time with her family.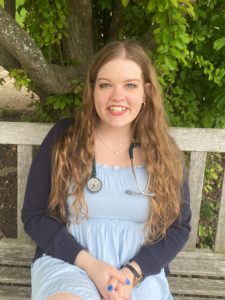 Dr. Danielle Storozynsky (Dr. S) grew up on the Eastern Shore of Virginia, where she knew ever since a young age that she wanted to be a veterinarian! She graduated summa cum laude from the University of Richmond with a Bachelor of Sciences in Biology in 2018. She then attended the Virginia-Maryland College of Veterinary Medicine, and graduated in the spring of 2022. She loved Richmond so much she decided to move back and join the wonderful team here at West End Vet! She loves baking, hanging out at the pool, going to the movies, and spending time with her cat Louie. She is very passionate about working with animals, and can't wait to get to know your beloved cats and dogs!
Fun facts:
1. I grew up by the beach, and I love seafood!
2. I've owned many small pets like hamsters, rats, and rabbits.
3. In my free time I love checking out new restaurants or visiting museums!
Dr. Chelsea Mason, DVM
Dr. Chelsea Mason grew up in Yorktown, VA. She has wanted to be a veterinarian since the age of 8, and has always dreamed of owning her own practice. She graduated top of her class from the University of Virginia with a degree in Biology in 2010. In 2014, Dr. Mason graduated with distinction from the Virginia-Maryland Regional College of Veterinary Medicine at Virginia Tech.  She then moved to Richmond and has been practicing in the area ever since.  Her passions in medicine include ultrasonography, surgery, nutrition, and senior care.  Dr. Mason is also passionate about giving back to her community, and in 2016 she founded VET Fund, a nonprofit organization which provides funding for emergency veterinary care to families in need in Central Virginia (www.vet-fund.org)
In her spare time Dr. Mason enjoys running, swimming, and attending as many of Richmond's musicals, concerts, and festivals as possible!